RIMS Hamilton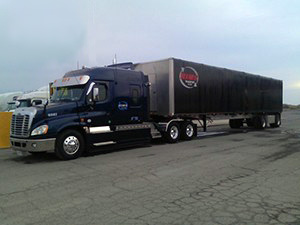 RIMS Hamilton, an ISO certified company, has been committed to servicing the transportation needs of its clients in Ontario, Quebec and the United States for over 50 years.
RIMS Hamilton works with its customers and their suppliers to provide the most value for your transportation needs in a way that benefits the customer, our company and the environment.
Our experienced management and operations teams pride themselves on their ability to professionally manage your transportation needs and deliver cost effective, timely results, safely to your destination ensuring you are completely satisfied.
With a modern and diversified fleet of tractors and trailers, experienced drivers and owner operators we are well equipped to meet all of our clients' transportation needs including JIT and LTL. By utilizing our new, all-aluminum sliding tarp system trailers we are able to deliver maximum payload for our customers.
Our core focus is along the 400 series highways throughout Ontario and to the United States.
Ontario to the United States Daily
For Ontario based companies wishing to transport to the Northeastern United States we offer daily multi-axle trailers, B-Trains and Tandem services. We are strategically located within 1 hour of Western New York.
When delivering to United States, certain trailer specifications are unable to service all geographical areas. You can make use of our furtherance, warehousing and cross-docking facilities in Hamilton, by switching to our Tandem Trailers to get your product to its desired location.
Our Passion is Steel
RIMS Hamilton has extensive experience moving products including finished steel, slab, plate, coil, wire rod and building products across Ontario, Quebec and the United States.
Our drivers are trained to thoroughly inspect your steel items at pickup, during transit and upon delivery. This procedure reduces claims.
Additional services we are able to provide include cross-docking, container stuffing, warehousing and furtherance services.
Certifications
RIMS Hamilton is an ISO certified company, is a bonded Canadian & United States Carrier, M.O.E. Approved, and is able to provide maximum payload hauling.
Our drivers hold FAST and TWIC cards where required and have CTPAT clearance to ensure the timely delivery of your product.